Actually I autographed more than one.
See, if you thrash around in the bush in the warmer parts of Turkey and Iran for long enough, you'll eventually find wild tortoises. Shy creatures, they mind their own business -as you'd expect- crawling languidly around, looking like rocks with legs, although rocks move a bit faster going downhill. They can't exactly run away quickly, so once you spot one, you'll definitely catch it. I found them all the time, particularly in Iran.
They don't much like people, but their only active defence mechanism, other than retreating in to their shell and making some unbelievably non-terrifying hissing sounds, is to wee all over anything that tries to pick them up. Which for a while was me, until I learned my lesson.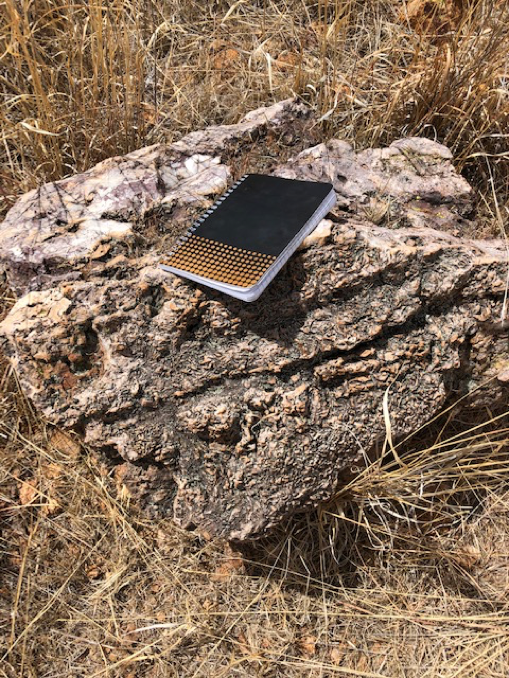 Tortoise Piss Is Unpleasant. Really.
Tortoise piss smells bad. I found out to my cost one day on a traverse when I came across a large tortoise stuck under a flat rock. It couldn't get out and was well and truly jammed in. How it got stuck in the first place is beyond me. There was nothing to eat under the rock and it had to have worked bloody hard to get stuck there. Suicidal perhaps, a depressed tortoise. Anyway, my helper and I levered the rock off it, and then I stupidly picked it up hoping to see a look of scaly gratitude in the beast's primeval eyes.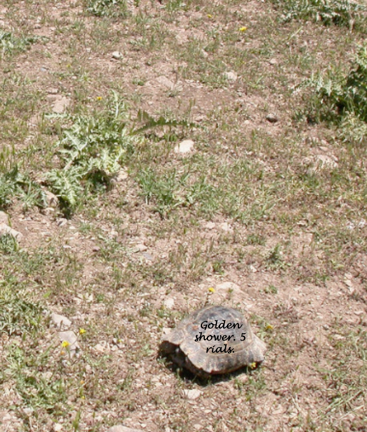 A Golden Shower.
Which is when it hit me with the golden-shower treatment. My hand was soaked in a nasty, yellow-brown stream of warm reptile juice. It got onto my jeans as well. Blanking out the howls of laughter from my field assistant, my initial reaction was to stick the ungrateful little soup bowl back under the rock and leave it there. But good sense prevailed. It wasn't the tortoise's fault, no, of course not. It was my fault for picking it up and hoping for a human-ish gratitude-response from it. What was I thinking?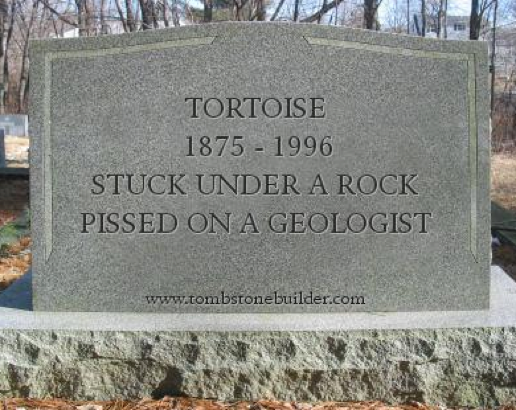 By this point in the day I'd run out of water, so washing was out of the question. We were a few clicks from the car and it was a hot day. I smelled bad, and as we hiked back to the car, with my own personal cloud of flies to keep me company, I began to smell worse. The trip to town wasn't a quiet one. All conversation was drowned out by the roar of the wind as we drove along, all 4 windows open; Aslan, my driver, glaring at me sullenly in the rear view mirror as I soiled his car. Whistling cheerfully, I tried vainly to pretend I didn't smell like a pee-soaked corpse with BO, and no, it really wasn't getting on to the back seat. He wasn't buying it.
I Smelled Bad.
From that point on, I stopped picking the piss-bombs up. We didn't stop finding them though, so in a true spirit of petty vengeance, I started signing my name on the tops of their shells in permanent marker instead, with the date and time, and the odd comment "Don't pick me up. I'll wee on you", "I'm a teapot" or "Beware! Tortoise piss mings"; highly adult stuff. Didn't seem to bother the animals, although I'm perfectly aware that it's probably not the conservationist approach to human-wildlife interaction.
Tortoises are the longest living land animals, gradually getting bigger and bigger as they age. Which means my autographs will live on, expanding with time, carried slowly around the Zagros mountains on a living billboard at 1 mile a day, top speed. I live in hope that one day, a back packer or a local farmer might track me down and write me a nice letter after finding my contact details etched indelibly in black ink onto the back of a resentful tortoise. Wouldn't that be something?